Children's Christmas mass
December 24th, 4:30pm
A wonderful hour of Christmas Carols and an interactive pantomime of the Christmas Story. Children will be invited to help act out the Christmas story and many timeless, child-focused carols will be sung.
A Choral Prelude to Midnight Mass
December 24th, 10:30PM
St Michael's Choir will sing the most angelic of hymns in anticipation of the Midnight Mass that will take us from Christmas Eve into Christmas Day. Mr. James Moore, our fabulously talented organist and choir master, will perform music to enrich the glory of God on this sacred evening.
Midnight mass
December 24th, 11:00pm
On this holy night, join us at 11pm as we sing in the day of the birth of our most beloved and dear Savior. This will be a full service with Christmas hymns and Eucharist. At midnight, we will all be together in the love of God for his children. Afterwards, join us in our parish hall to drink eggnog and draw nearer to one another in love and good cheer.
Contemplative Christmas Eucharist
DECEMBER 25th, 10AM
Christmas morning join us for a special mass focusing on the deeper, quieter joy of Christmas morning. A contemplative Eucharist is silent space for being and listening, for thoughtful meditation and for receiving the Holy Spirit
The word Advent comes from the Latin word "adventus," meaning coming. For Episcopalians, it is the time in our Liturgical Calendar when we prepare for the coming of Christmas and all the joys that come with it. During this time, we are in a state of anticipation and commemoration of the good news that came into the world with Jesus and the knowledge that he will come again. We prepare for this with a series of four Sundays with special readings and songs.
One of our traditions is the Advent Wreath. It is made up by four candles, three purple and one pink (sometimes blue). They are arranges in a circle, often decorated with greenery. it is a crown for the holiday. Sometimes, there is a fifth, white candle - known as the Christ Candle - which would be lit on Christmas Eve. On the Sunday of each week of Advent, we light one of these candles.
The first candle to be lit represents hope. It reminds us that we have a faithful God who will fulfill His promise to send a savior. The second candle to be lit represents peace or preparation. We are reminded to make room in our hearts, in our lives and the lives of others to allow the Holy Spirit to bring us His peace and awareness of our savior.
The third candle represents joy. We have a cause to celebrate! The coming of a savior means that we will be reconciled with our creator. That although we live in a broken world that still suffers from sin, we are not alone! We have a savior, a protector, who frees our hearts to happiness.
The fourth candle (pink or blue) represents love. Our creator sent a savior because he didn't want to be separated from us. He loved us! "For God so loved the world that he gave his one and only Son, that whoever believes in him shall not perish, but have eternal life. For God did not send his Son into the world to condemn the world, but to save the world through Him." (John 3:16-17)
Some may also place a plain white candle, known as the Christ Candle, in the center of the Advent wreath to be lit on Christmas Eve. Jesus was the pure sacrifice sent to wash away our sins. God's literal life on earth is the hope of our salvation and we honor this event on Christmas Day.
Another tradition of Advent it to green your house and to put up your nativity scene. But many Episcopalians will save putting up their Christmas tree or putting baby Jesus into the nativity until Christmas Eve. Some will even hold back the three Wise Men until Epiphany.
When do you get to Christmas?
For Episcopalians, Christmas arrives on Christmas Eve. For us, this is a day when we remember that God chose to dwell with us. He made the choice that to fully enter into our lives by becoming one of us through his son, Jesus. God is not an aloof figure who orders and commands us. He is a loving father who resides in us and loves us so much that he sent his son to redeem us.
Traditionally, this night will be filled with music and celebration. At St Michael's we will hold two services. The first service, will be centered on children. It will feature music and we will pantomime the Christmas Story involving the children to help us illustrate it. This service will be held at 4:30 pm. Later that evening, we will hold a service that will bring us to midnight in beauty and awe. Starting at 10:30 pm, our choir and organist will lead us in the beauty of carols and prepare us for the service. We encourage you not to miss this captivating prelude to the 11:00 pm service (it will last until Midnight, so it can be called Midnight Mass). This is that time when the fullness of all the Old Testament was brought to fruition as God came to live as one of us and within all of us.
At home, Christmas Eve is the time when many Episcopalians will put up their Christmas Tree and the baby Jesus will join Mary and Joseph in his manger.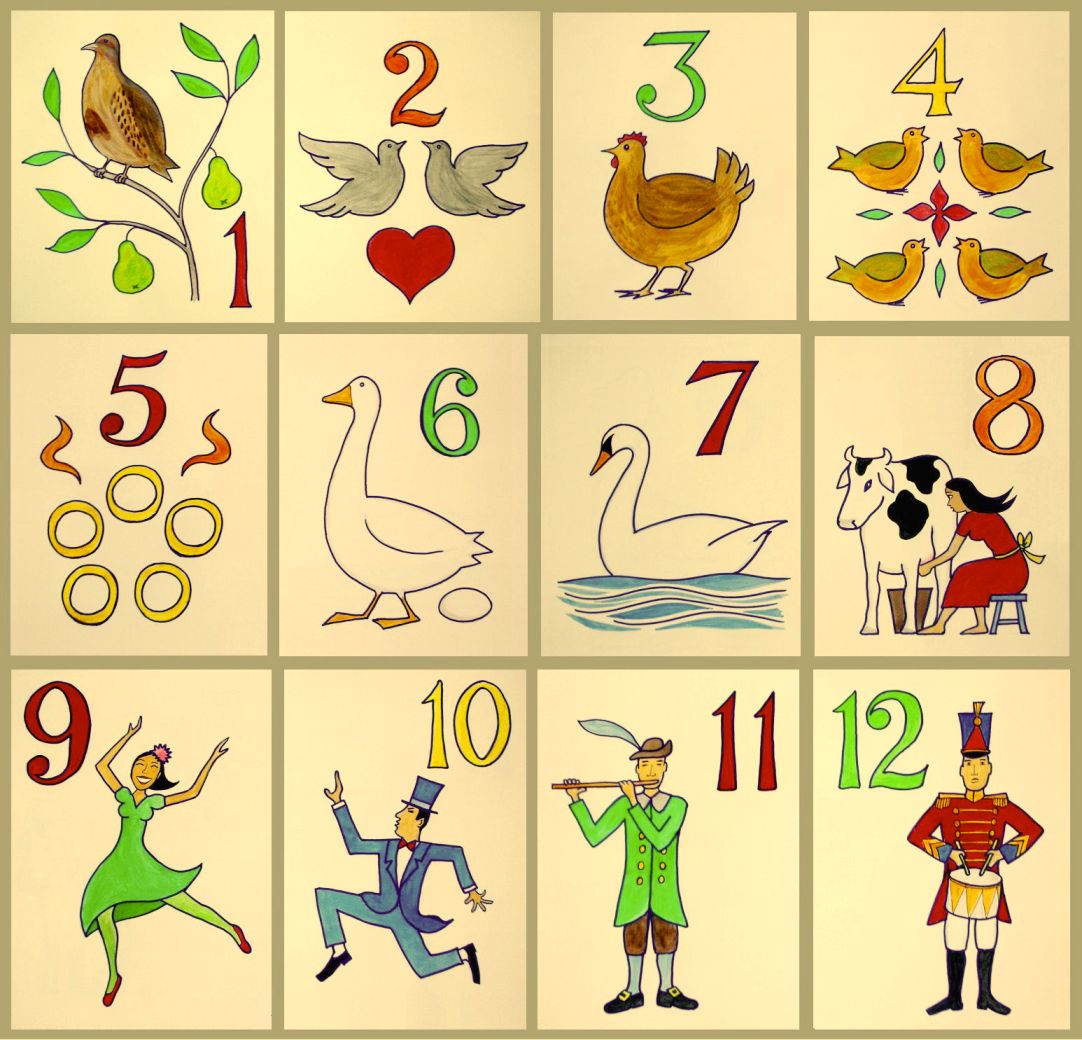 The Twelve Days of Christmas
You've all heard the song, but it isn't just about gift giving (although, the birth of Jesus was the greatest gift ever given to humanity). For Episcopalians, the twelve days of Christmas from December 25th through January 5th are the season of Christmas. This is when we sing Christmas Carols and celebrate the great joy of God living among us as a human.
Within the twelve days of Christmas, we also have some other days of religious note. On December 26th, we celebrate the Feast of St. Stephen. St. Stephen is remembered not only as the first martyr of the church, but also the first deacon ordained for the care of the poor. December 27th is the Feast of St John the Evangelist. The Gospel of John refers to him as a "disciple whom Jesus loved", who "bore witness to and wrote" the Gospel's message. December 28th has a sadder note. It is the Feast of the Holy Innocents, and commemorates Herod's order to kill the children of Bethlehem. It is a day within our tradition for parents to spend with their children and to bless them. You might also want to consider making a donation to St Michael's diaper ministry, that serves infants and toddlers through the distribution of diapers. Minor feast days during the season of Christmas include commemoration of Thomas Becket (December 29th), Francis Joseph-Gaudet (December 30th), Samuel Ajayi Crowther (December 31st), Vedanayagam Samuel Azariah (January 2nd), William Passavant (January 3rd), and Elizabeth Seton (January 4th). On New Years Days, we celebrate the feast of the Holy Name of Our Lord Jesus Christ. Symbolically, this is the day of the circumcision of Jesus and, therefore, it is the first spilling of Christ's blood for ours sake.
While not an official feast day, January 5th is sometimes called "Star Day." We commemorate the star that drew the Wise Men to honor the birth of the Messiah.
Epiphany and the arrival of the three Wise Men coincide for Episcopalians on January 6th.
The word epiphany means revelation. For Episcopalians it means several things. First, it is the official end of the Christmas season, but it is also the time for us to come to the understanding of the full divinity of Christ. Epiphany is often called the Feast of the Magi (the Three Kings). The story of the three Wise Men is so important because it is the beginning of Christ's inclusion of gentiles into the children of God. So, on this day, some Episcopalians will add the three Wise Men in their nativity. The season of Epiphany varies from four to nine weeks, because of the arrival of Lent and Easter are linked to the lunar calendar. There isn't any official deadline of when to take down your nativity, so feel free to commemorate the Wise Men as long as you like, but since the season of Epiphany is a little more than eight weeks this year, that might be a bit excessive.